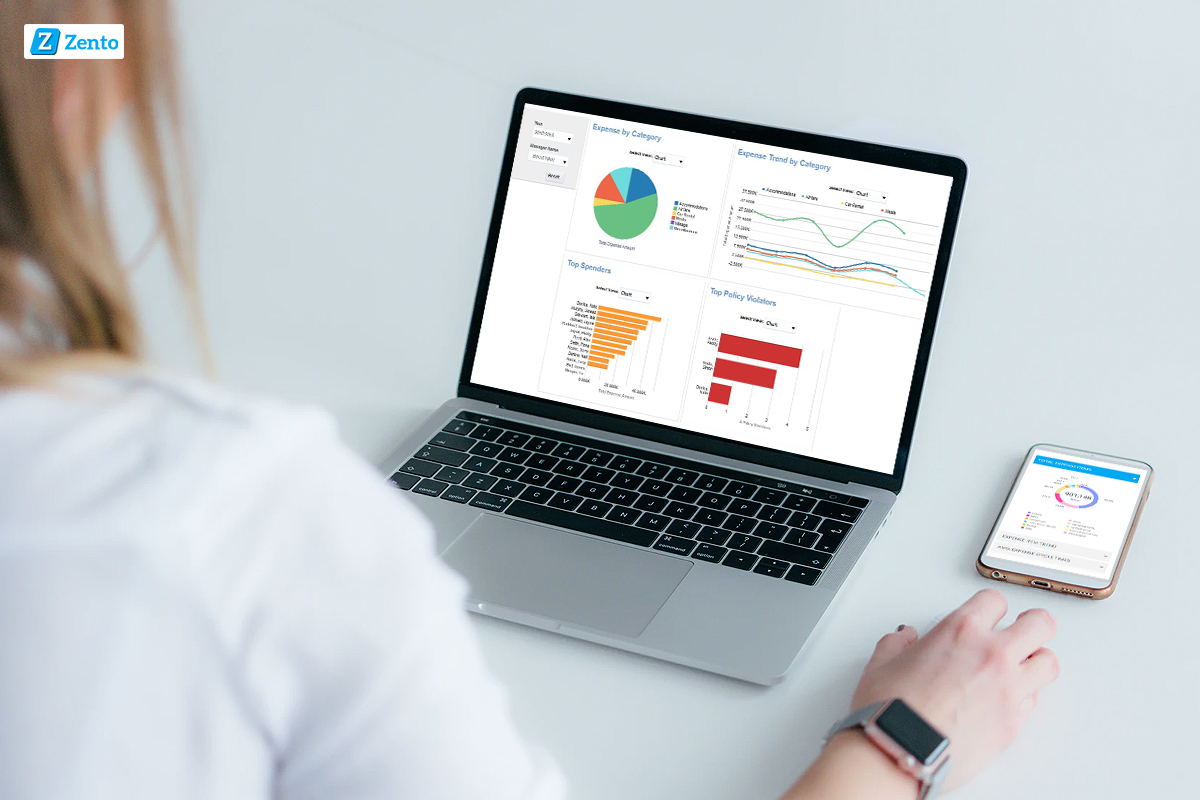 The manual management of business expense processing is usually time and cost intensive for businesses and a pain point for employees & finance/travel/HR teams. Automated expense reporting is catching pace although many companies still lack a proper expense management software in place, unnecessarily putting an avoidable strain on resources.
According to a study released by the Global Business Travel Association (GBTA), processing one expense report takes around 20 minutes at an average cost of $58, not to mention the approximately 18 minutes taken to correct an erroneous report at extra costs.
Read on to know how an intelligent expense management automation effectively manages purchase requests & cash outlays, eliminate late payments and provides the workforce with more time to focus on delivering results
How Automation Redefines Business Expense Management
Today, companies rely on technology enablement and digital transformation to gain competitive advantages against their peers, and one area this can have a major impact is in the highly dynamic area of expense management. Here are some benefits of automating your employee reimbursement processes.
Goodbye to paperwork & erroneous reports:
Zento helps you reduce those heaps of physical receipts & complex spreadsheets with an automated expense management solution in place. Also with in-built checks and balances in place, it eliminates error-ridden reports since the finance team no longer needs to verify countless paper receipts manually.Employees can simply scan and upload their receipts on the system with minimal additional input which makes the job of their approvers and the finance team a lot easier.Also, any submission error can be easily and quickly traced back to its source which is time consuming with paper records.
Effective policy compliance:
Zento gives context to expense claims. By classifying different types of expenses at the time of input ex. out of pocket expenses, restaurant bills, travel receipts, etc., you can segment, drill down and gain holistic overviews of where and how employees or teams are spending corporate funds and whether limits are being crossed.With the ability to define expense policies within Zento, you can ensure expense vouchers meet certain criteria even before submission. Where manual processes allow policy defying claims to slip through, Zento can help you flag questionable claims proactively according to a well-defined policy. With a few clicks, the finance team can approve/reject the reported expense in real time.
Rein in expense fraud:
In its Asia-Pacific edition of 2018 annual report, the Association of Certified Fraud Examiners (ACFE) claimed that expense reimbursement frauds constitute a substantial 17% share of the most common occupational frauds in this region.Automation can pick up duplicate entries of expense receipts & notify the submitter, and also the approver, to either merge (or purge altogether) that expense with an existing one. This enhances expense review & eliminates the chances of related frauds.
Faster approval & reimbursement:
Customized approval workflows in the system guarantee prompt approvals & reimbursements of expenses. This boosts the confidence & faith of the employees in the expense reporting process. Once an approver approves a reported expense, the next approver is automatically notified by the system to complete its part. This increases transparency for everyone in the process thereby augmenting a better work culture for all.
Increased spend visibility & insights:
In manual reporting of expenses, it's very difficult to contextualize the expense data and subsequently gain meaningful insights from it.
Additionally, manual management of reported expenses affects data accuracy & doesn't provide a comprehensive glance at the company's cash flow.
Implementing an automated expense system like Zento can generate, on demand, many extensive reports on spends – for example all spends related to a specific business travel itinerary, policy violation, reimbursements, approved expenses & much more to provide insights from different perspectives. It acts as a business expense tracker in that sense & boosts the synergy between finance and employees & helps optimize budget allocation.
Automated Expense Solutions: Employees' Perspective
Submitting claims & generating expense reports on the go is a huge plus for employees using an expense management system. Zento is accessible by employees from anywhere, on-the-go or from the office, on a desktop or mobile device.
They are always aware of the status of their claim's approval process & any discrepancy in submitted claim is swiftly resolved by the system itself, subsequently notifying the approver & submitter. This in turn saves the most precious resource – time.
Benefit to the Finance Department
We have discussed how a proper expense management system simplifies the cumbersome and error prone tasks of an otherwise manual system for finance teams.
With an automated system in place, finance departments needn't individually crosscheck a reported expense against a policy for verifying it or bother about seeking an explanation from someone from the workforce for submitting out-of-policy claims. The automated system takes care of the bulk of that, working behind the scenes. This makes the auditing and compliance functions of the finance department easier.
Benefit for the Human Resource Department
In addition to managing recruitment and payrolls, HR department will have a daunting task of disbursing tax benefits (in different formats) to the employees if employees have to furnish paper bills every month for making claims, especially when digital payments are the new norm.
We've tied up with Enkash to offer businesses pre-paid expense cards which directly feed Zento with purchases and spends. The automated system enables HR managers to take quicker & better decisions, with negligible paperwork.
Zento is an intuitive cloud-based expense management system that eliminates the need for manual data entry & paperwork while saving the organization's resources. Vendor configuration, customized reports, real time tracking of different types of expense claims from desktop and mobile, dashboard for quick insights, advance payments reconciliation; these are only some of the numerous features offered by Zento to consolidate, automate and streamline your company's expense management process.
Also, it easily integrates seamlessly with major ERPs used by organizations.
For more information & for a 90 days free trial, feel free to reach out to us at Zento.