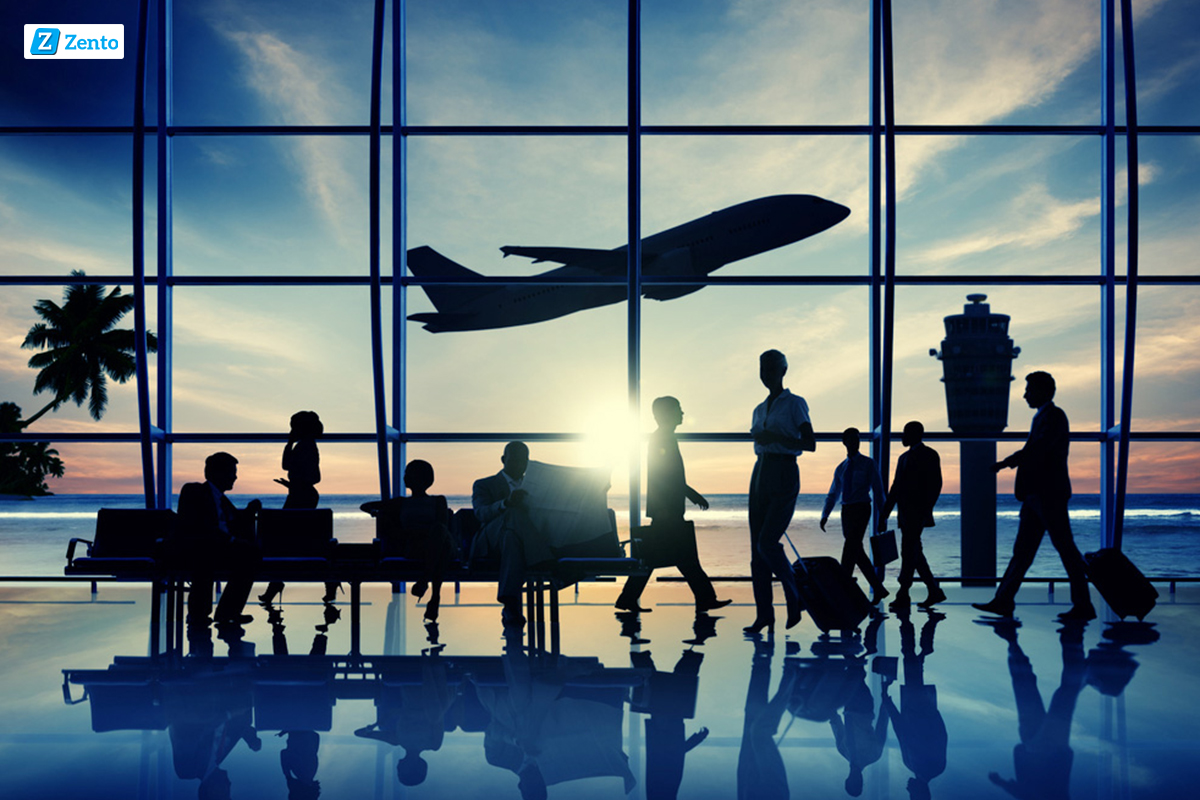 During 2014-2019, the global business travel market grew at a CAGR of around 5.1%. Rapid digitization & penetration of IoT in the travel & tourism sector prompted corporations to tie-up with leading business travel companies.
These corporations evolved an effective and collaborative travel ecosystem for their teams commuting for business meetings, brand promotions, conferences & corporate events at the local or global level.
SMEs were fledging, startups were growing and the future of business travel looked bright.
That was, of course, before the Covid-19 pandemic disrupted everything.
The Unprecedented Impact
Due to the nature of the pandemic, international borders were promptly sealed, businesses came to standstill and corporate travel halted suddenly. At the height of the pandemic, around two-thirds of the world's passenger jets were in storage.
Now, after around a year of lockdowns and restrictions, the uncertainty in the future of corporate travel is very telling.
Earlier, it was predicted that the corporate travel spend would surpass US$1.7 trillion by 2022 but Statista has reported a revenue loss of US$810.7 billion for the business travel industry in 2020 due to the pandemic.
In the business travel projections for 2021 and beyond in its annual BTI Outlook, GBTA – the world's largest business travel association – has stated that the global work hours loss for business travel industry in 2020 against 2019 was equivalent to 400 million full-time jobs in hospitality, airline, ground transportation & other service provider sectors.
These losses will be fully recovered no sooner than 2025. Clearly, a terrible setback!
As professionals couldn't travel for in-person meetings due the pandemic restrictions, companies were suddenly forced to evolve a full-time remote work setup and equip & train their workforce for it.
Amid all that, losing clients and contracts was unavoidable.
Raring For The Comeback
With the pandemic waning of late, lockdown restrictions being eased and successful development of vaccines, businesses are shifting focus to the resumption of corporate travel. Get ready to adapt your business travels to the new normal in the post-Covid world.
Formulation of new travel policies

With governments & travel companies across the world promulgating new rules and regulations vis-à-vis Covid-19 (social distancing, sanitization & hygiene, travel/hotel bookings & cancellations, limit on passenger count, refunds, meals etc.), businesses need to formulate new international corporate travel policies for their employees, for starters, and employees have to adapt to working with them.
Accommodating the new costs

At many airports, both domestic & international travelers are required to provide a Covid negative RT-PCR report from a government approved lab if they are coming from a region that is still a Covid hotspot.
In case they are not in possession of such a report, they'll have to bear the expense of getting tested at the airport. Companies have to accommodate such costs in their travel and expense policy for their travelling teams.
Increased air fares & fewer flights

Air fares have increased owing to lesser occupancy in flights, vacant middle seat for enforcing social distancing & making up for the losses due to booking cancellations during lockdown.
Even the number of flights are fewer now, with most of them being indirect flights. That spells business travelers spending a significant chunk of their travel in waiting for their connecting flights.
Businesses have to account for all this and plan their client meetups accordingly.
Growing domestic travel

Domestic travel has surged in the Asia-Pacific region and corporate travelers are welcoming it due to easier ticket availability, lower cost, enhanced safety measures & hygiene standards. Local markets are getting a boost as companies are turning to them. This is saving them costs in taxes and import duties.
Surge in cab services & car rental demands

Cabs are a good option to avoid travelling with the crowd. Travelers are much preferring to hire them for commuting.
Frequency of rental cars' booking is also rising steadily for they provide the reassurance that a sanitized, clean car is only for own personal use for days at stretch, as opposed to the common sharing of rides before the pandemic.
Train travels

Countries like India where the railways have a great outreach to small or big locations, business travelers are now frequently booking individual sleeper cabins in trains for these reasons:

They are cheaper than flight seats.
Direct trains are easily available.
Comfortable journey with all the new standards of hygiene & pre-boarding checks.
Ticket cancellation doesn't burn a big hole in pocket.
As Covid is still active in certain regions, businesses have to take care of their employees overall well-being, considering the risks involved in their travelling. Travel managers must conduct a thorough risk analysis of the destination, travel durations, risks of catching the virus etc.
They must keep an eye on their travelling teams' exact locations, track them in real time & provide every assistance which they may need on the spur of the moment.
The Covid recovery rate in each country will vary as every country was hit by it at a different time. Permitting the passengers in or out of the country is risky. International travelers are required to provide proofs at the airport that they are Covid-free or not coming from a Covid hotbed area. Vaccinated passengers will have to show relevant documents.
In case a passenger is found Covid positive at the airport/railway station, authorities quarantine that passenger. Businesses have to be mindful of this eventuality and create effective procedures to deal with it.
Business travel & hospitality sector

If the eventuality mentioned above manifests, then the hotel bookings & any connecting flight/train bookings of that passenger will have to be cancelled. Hotels and airlines need to float policies that provide their customers with flexibility in booking and minimal cancellation charges.
Mandatory travel insurance

Companies are now taking travel insurance more seriously. They have charted out new travel regulation which mandate their employees to obtain travel insurance.
This is being done since employees usually skipped the insurance package during travel bookings in pre-Covid times. With the onset of Covid, many business travelers lost out on non-refundable flights & deposits. Hence, firms are adamant at patching this with making travel insurance mandatory for the employees.
The magnitude of the losses for 2020 business travel spending are said to be 10 times larger than the impact of either 9/11 or the Great Recession of 2008.
Evidently, sectors at the epicenter of the Covid crisis have faced more volatility moving forward, including hospitality, ground transportation & retail. But now that things are gradually resuming normalcy, the corporate as learnt the lesson. Firms are actively devising new regulations & policies to ensure a safe and efficient business travel after pandemic, with minimum collaterals.
As a direct consequence of all this, business travel expense reporting has also seen a drastic change over the year. In spite of the paralyzing challenges of the previous year, Zento – a Cloud-based expense management automation system – has proved its robustness to integrate the changes effected through new policies and rules as & when formulated by the businesses using it. Wherever your teams are travelling to, simplified & contact-free expense reporting with mobile-based receipt data extraction with few clicks has eased things tremendously for travelling professionals.
With features like asset tracking, integration of pre-paid corporate debit cards by Enkash, easy integration with major ERPs etc., Zento is an all-in-one solution to bring entire expense reporting & resolution process of your organization on a single platform. For a more exhaustive account, reach out to us for a 3 month free trial of Zento.