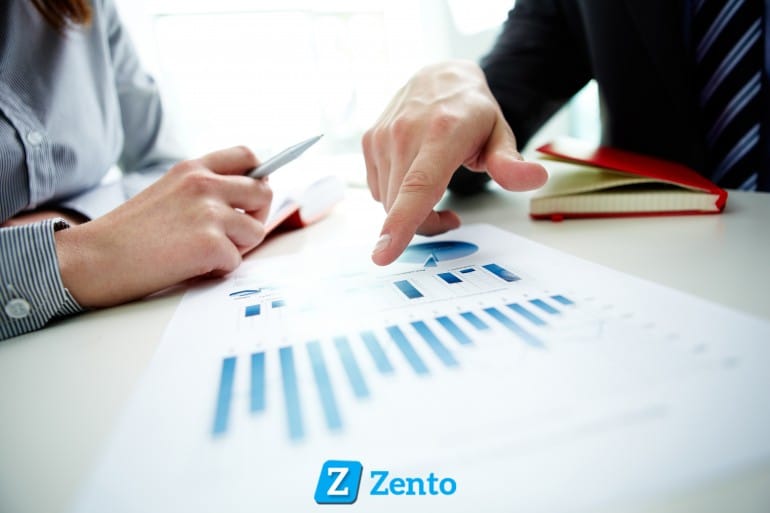 Business travel accounts can take a while to process and sometimes it might feel like settling your travel expense claims is taking longer than the actual trip duration! When the process is offline & manual, it is tedious for the accounting team to calculate and settle travel expense claims, reimbursements, service vendor invoices (like travel agent expenses, taxi agency, etc.), reconciliation, cost of travel and stay, and other financial payments. An expense management software like Zento helps break down these complex processes and make them simpler.
Zento can capture every cost associated with a given trip – for an individual employee or for a group of employees. It can then give you an overview of that travel plan, with information reports like total cost of the trip, costs incurred in a given area, for a certain component such as food, etc. It records all activities, nationally and internationally, with employees easily able to attach and upload any supporting documents as per your company policy.
Zento is a travel expense management solution that also has built-in checks against forgery and tampering of business expenses. Suspicious and duplicate claims are flagged and brought to the attention of approval authorities.
Expense management software is essential not only for the company but also for employees; since it gives them the comfort of knowing that they can spend from their own pocket towards business expenses and be swiftly reimbursed as long as their supporting documents are in order.
This easy-to-operate travel expense management system performs three key functions for a seamless automated expense reporting:
Digitization of receipts makes it convenient for both the company and the employee. The employee can digitally capture every business transaction receipt and upload it in the software immediately. Hence, even if the receipt or bills are misplaced or lost, the software retains the expenses made by the employee accelerating the claim process. At any given point of time the employee has a snapshot of expenses incurred by him, and the status of approval by the immediate authority. For the company, this process becomes accessible from a central point – managers need to simply log into the system from any web browser and they immediately have an in-depth view of all things related to employee expenses.
Zento provides a complete breakup of different travel related costs. You can segment costs by food, accommodation, bus, taxi, air, etc. – which allow you to drill down and find areas to reduce costs and take advantage of cost efficiency wherever possible. A manager can easily compare costs incurred by two different employees on the same trip or similar trips and have a basis on which to question any extraordinarily high costs incurred by one of those employees.
Zento allows HR/Admin/Accounting and Managerial personnel to allocate & approve travel budgets. For example, the Regional Sales Head might allocate a sales budget to his regional team, which will be approved by the CMO. The system will now allow the Regional Sales Head to monitor whether his sales force is falling within the projected budget and whether any ad-hoc adjustments need to be made. Zento makes it painless to optimize these budgets by offering past trip data that acts as a reference point to budget future travel expenses and requirements.
Travel and expense (T&E) management can be simplified with Zento, an employee expense management system that ensures transparency in claim and claim settlement processes. It is a simple, intuitive, cloud-based application that replaces the manual effort of settling T&E expenses. This solution automates laborious, complex and time-consuming reimbursement process. It streamlines and simplifies audits, minimizes compliance and fraud risks, and ensures secure archiving and lower storage costs. It allows employees to create expense reports on smartphones and other mobile devices anywhere, any time. Managers can also view and approve expense reports right from their mobile devices, on the go, leading to time saving, faster response times, and increased productivity. Get in touch with us to learn more about Zento and how it can help you manage corporate employee expenses and reimbursements.
Latest posts by Tech Team
(see all)