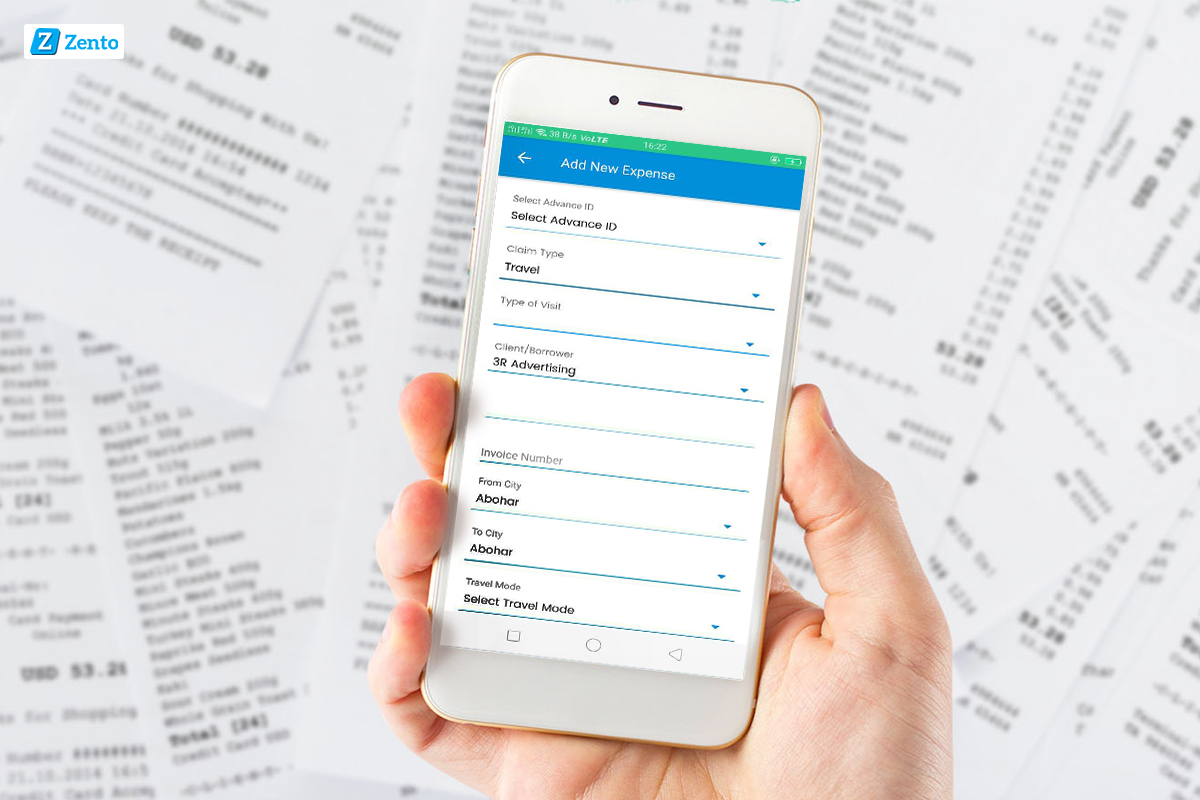 Even as technology is revolutionizing management of expense reporting, traditional receipts management is still the norm in some form or the other in companies of all sizes.
In the absence of an automated expense reporting solution, tracking & managing receipts can be a tiring, cumbersome & error-prone process.
Implementing an expense reimbursement software like Zento can be a crucial game-changer that can increase the financial productivity within your organization.
With Zento, your teams don't need to go through reporting & entering every single receipt manually and also they needn't run around employees for expense report submissions, instead of focusing on their core duties.
Hurdles in Traditional Receipt Management
Every organization has its share of challenges in managing receipts & without the best expense management practices taking care of otherwise manual effort intensive things, the expense receipts can be misplaced, lost or damaged.
In such eventualities, employees would have to bear with either delayed expense reports or, worse, miss out on reimbursements.
Finance teams, on the other hand, would have to grapple with accounting problems while trying to stay audit ready. Here are some of the other challenges that make traditional receipt management highly unproductive.
Invoices can be reported in many ways like traditional mail, email, courier & so on. Tracking the entire expense reporting cycle requires several people to manage the end-to-end process, making the generation & saving of receipts both complex & opaque.
In case of ad-hoc needs, sorting the receipts manually is time-consuming & also it can't be ruled out that some invoices get paid twice or, in the worst case, the wrong account gets paid!
Manual tracking of paper-based invoices can overwhelm anyone as invoices are often required to be cross referenced for validation. There are a lot of back & forths that employees & finance teams need to go through.
Consequently, several invoices in the traditional expense management system may be left circulating, with delays in ultimate processing.
Even if hundreds of paper receipts are maintained flawlessly, one never knows when some of those receipts may get lost, or fall into wrong hands. Unverified expenses could cause a troublesome situation during audits.
It costs your business time, money & effort to process every invoice as it has to go through multiple approvers & functions before it gets validated. Data entry errors can't be ruled out. Also, you can't gauge how the cash flow is shaping up in real time.
In the long term, these hurdles eat away at the bottom line significantly and are also detrimental to audit readiness of the company. To eliminate such bottlenecks at one stroke, companies can use an automated expense management solution like Zento.
Automating Receipt/Expense Management
Automated expense handling takes the traditional process to an online/cloud-based platform where every sub-process is handled by the software. It streamlines expense tracking, processing & reimbursing.
An effective expense management tool eliminates altogether the issues of the paper/spreadsheet-based approach.
Moreover, it provides insights into your spending & provides you with an analytical perspective of the entire process.
Digitized & easy expense reporting
Employees can upload scans of physical receipts in any format to the automated expense system that is Zento. Digital receipts can't be lost, get damaged or misplaced. So, both the employees and finance teams needn't worry about preserving the physical receipts for audits. Even if you do want to retain original paper receipts, they can be stored remotely, without the need to have to refer back to them when needed.
Moreover, a lot of expensive corporate space is freed for more productive usage as file cabinets are not required to store invoices any more.
Ease of access
Being Cloud-based, Zento provides both employees and finance teams with ubiquitous & fast access to the digital receipts/invoices and information about the current status vis-à-vis reimbursements – round the clock & throughout the year on Web connected mobile/desktop devices.
Minimal manual intervention
Whereas traditional methods expend considerable man-hours in individually collecting & verifying the receipts, an automated solution like Zento handles all that automatically, sans errors, saving costs & time.
It can process hundreds of invoices simultaneously within few seconds & concerned parties are automatically notified of updates.
The receipts are always accounted for, something which companies with traditional receipt processing tend to struggle with.
Higher Cost Saving
As most of the work is handled on Cloud, administrative & stationery costs are saved for your organization! Additionally, minimal human intervention means managers & finance teams can focus on more important tasks without worrying about any imminent audits.
Policy configuration & level of approvals
You can configure policies in the system for different types of claims according to which the software processes the uploaded receipts.
Multiple levels of approvals in a process can also be set as per organizational needs. If the user adds expenses which exceed the amount authorized to the user, a tool like Zento has the facility to auto-calculate excess amount as per the policy set by the organization.
If auto-approval policies are configured in the software, an expense below a set limit is auto-approved by the system.
Faster reimbursements & reduced turnaround time
Turnaround times are greatly reduced with the software taking care of receipt management as teams don't have to juggle between pile of physical receipts & multiple spreadsheets.
Digital verification is instantaneous & reported expense is resolved at the earliest by the system.
Eliminate expense frauds
In automated expense management, duplicate entries of receipts are promptly flagged to the submitter & the approver, to either merge (or purge altogether) that expense with an existing one. This enhances expense review & eliminates the chances of related frauds. Zento comes with built-in cash leak protection.
Spends visibility & insights
Manual management of reported expenses affects data accuracy & doesn't provide a comprehensive glance at the company's cash flow.
User can generate, on few clicks, extensive reports on business trips' spends, policy violation, reimbursements, approved expenses & much more, to get insights from different perspectives in no time.
Customized dashboard
Employees can glance at the dashboards in their respective system accounts to track status of their submitted receipts & they can also see the total expense reported by them in different claim types over the weeks, months or years – a crucial feature which traditional systems lack.
Zento, a Cloud-based automated expense management solution for companies of all sizes, offers numerous other features in addition to those discussed above, like advance reconciliation of expenses, real time data backup, easy vendor configuration, integration of Enkash cards, report generation, claim resubmission and much, much more.
To get an exhaustive account of how our team of experts helps organizations revolutionize their traditional receipt management process to be audit compliant consistently, feel free to reach out to us for a 90 days free trial of Zento.